What We Do
Cordillera Digital provides business strategy, client marketing solutions, digital operations and sales resources in more than a dozen mid-metro and community media markets.
We have developed strategic partnerships with top-tier service providers and an industry-leading operations and fulfillment team in St. Paul, Minn. With these resources, our teams offer local businesses a full line of digital marketing solutions.
In addition to our services for local businesses, Cordillera Digital offers a content strategy division, working with our television stations to create and distribute award-winning and high-quality journalism across digital platforms.
Digital Marketing Consultation
Video Production & Advertising
Search Engine Optimization
Client Deals & Offers
Business Reputation Management
Mobile App Development
Social Media Strategy
Social Media Marketing
Targeted Web & Mobile Display Advertising
Search Engine Marketing
Email Marketing
Native Advertising
Online Directory Presence
Content Strategy
At Cordillera Digital, our senior leadership brings more than 80 years combined digital media experience to every thing we do.
Jay Small
President
Jay Small has led Cordillera Digital since early 2010. With 30-plus years in media and 20-plus in digital leadership, Small previously held senior posts at The E.W. Scripps Co., Belo Corp., Thomson Consumer Electronics, The Indianapolis Star and Evantage Consulting. He also served as a digital strategy and user experience consultant, with clients in media, electronics, pharmaceuticals, finance, and retail. Small earned and MBA from Kennesaw State University and a bachelor's degree in journalism and political science from Southern Illinois University. He also serves as COO of Clear Night.
David Buonfiglio
Vice President, Sales

David Buonfiglio joined the company in early 2010 to lead digital sales. Since then, he has led development of our mobile services for small/medium businesses, and he now serves as chairman of our sales leadership committee. Prior to joining us, he served as President of Barrington Interactive, and Vice Presiden/Sales for International Broadcasting. Buonfiglio builds local teams for the future by structuring product lines and training SEM, SEO, social media, mobile marketing, reputation management, targeted display advertising, and email marketing.
Toby Collodora
Vice President, Content Strategy

Toby Collodora joined the Cordillera Digital team in 2013, focused on growing mobile and social media platforms. She now leads content strategy, helping newsrooms, marketing and sales departments on all digital platforms. Prior to joining Cordillera Digital, Collodora worked for UnitedHealth Group and WCCO-TV in Minneapolis. As the digital content manager at WCCO, she helped merge the company's television and radio websites. As social media and mobile emerged, she helped establish WCCO's presence in those spaces. Collodora has a degree in broadcast journalism from the University of Minnesota - Twin Cities.
Karen Godin
Director of Ad Operations

Karen Godin leads digital ad operations teams and programmatic strategies for Cordillera Digital. She joined the team in January 2012 with four years of digital ad operations experience and nine years of experience in television, including sales, traffic and promotion.
Cordillera Digital Sites Across the United States

















One Company, Great Locations
Serving more than 2.5 million households across the United States, Cordillera's strong ratings foundation, commitment to localism and superior sales and marketing forces make it one of the nation's strongest medium-to-small market television broadcasting companies.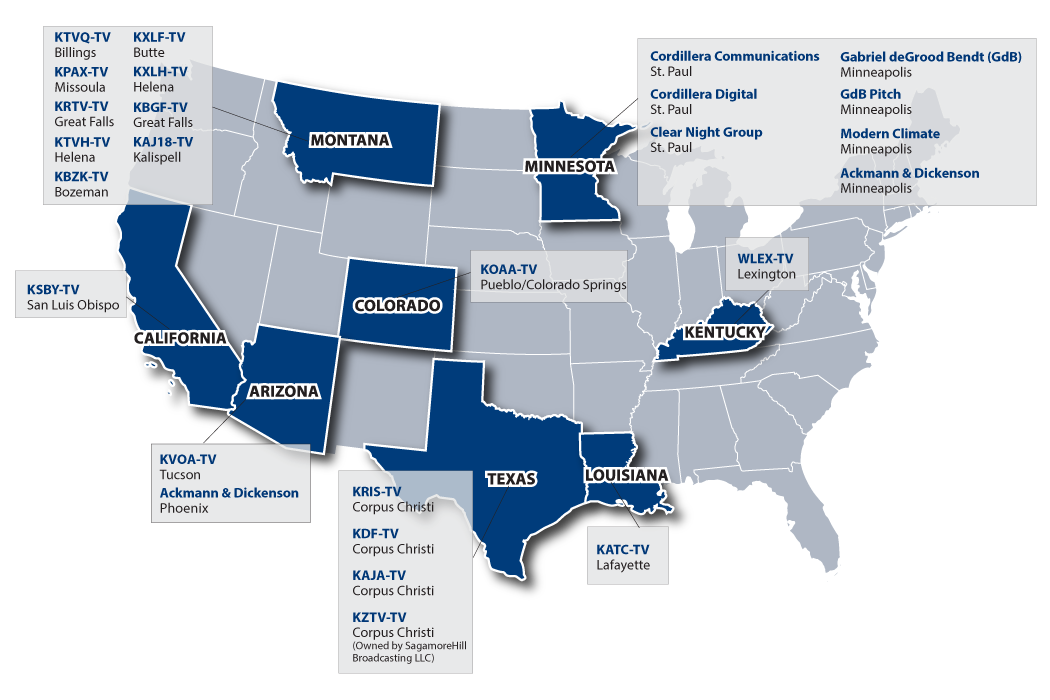 Clear Night is a marketing services holding company and a subsidiary of Evening Post Industries. Like its parent company's reputation in the publishing and broadcasting space, Clear Night's goal is simple: to be a global leader and innovator in marketing communications. Clear Night owns the following marketing and technology services firms based in the Twin Cities, Minn.: Ackmann & Dickenson and Modern Climate.
Whether you are looking for your first job or continuing your broadcasting career, Cordillera Communications has a wide range of employment opportunities at its locations across the country.
Have questions? Want to learn a little more? We want to hear from you. Use the form below to start a conversation with our team.